The night of May 4, 2000, was the eve of one of the most exciting, powerful, and transformative celestial events of our millennium according to astronomy and astrology experts. It began with the darkest night in living memory... no moon or planet lit up the sky as the Moon, Mercury, Venus, Mars, Jupiter and Saturn were hidden from human eyes behind the Sun. The next morning, May 5th, at 8:08 a.m. Universal Time, the longitudinal span of these five planets, Sun and Moon collimated within a geocentric (Earth-centered) sector of 27 degrees of the Constellation of Taurus in our Milky Way galaxy, forming a "Grand Planetary Alignment." Synchronistically, the planets on this date were also in alignment with the great central Sun of the Pleiades cluster, plus the current eleven-year sunspot cycle was be at its peak. Many cultures, including the Mayans and Hopi, have a prophecy predicting the May 5th Grand Planetary Alignment and this time, "the birth of the New Age of Enlightenment" - The Age of Aquarius. On the Mayan calendar, May 5th marked the end of the 5th Sun and the birth of the 6th Sun.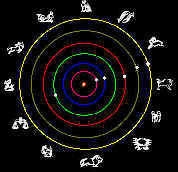 As with the 12/12 and the August 11th eclipse ("The Seeding of the New Dream"), Lyn "Starflyer" Hopkins, PhD. and Shama, CHT, CDC, TDE hosted an evening of ceremonial activities, workshops, drumming and chanting to connect with the May 5th Grand Planetary Alignment and invoke world healing. With the able assistance of our keynote speaker, astrologer Ken Kalb, we consciously grounded our partnership with Great Spirit while setting our collective intent for birthing the sacred "New Age Dream."
On this ceremonial evening , we celebrated the Planetary Alignment and World Healing Day. Taking our power as enlightened human beings, we engaged in mini-workshops, ushering in the New Age light energy of this millennium and playing our part in world healing. We culminated the evening with a community bonfire, praying, drumming and chanting as we shared our hearts, voices and beauty with one another.
Illustration, "Psyche" by Via Davis at
Studio Psycherotica is copyright 2000,
all rights reserved.

NEW JERUSALEM

The Golden Age

* * Now is the day * *

The dream of every yearning, searching soul

From depths of eternity to all infinity

Attunes to Creation's mantra.

This day

Each sentient soul ascends

Proclaiming boundless wisdom and worth,

At One with Self and totality.

Today

We entwine individual tones

In a single harmonious chord,

Lifting our passion to tips of enlightenment.

The moment is now!

We birth our Sacred Collective Dream.

Celestial scion of our joyous conjunction

Emerges in timeless perfection and love.

With Love, Lynette Hopkins - "Starflyer"
Grand Planetary Alignment - May 5th
New Age Dream - World Healing Day
Age Of Enlightenment - Collective Dream
Mayan Calendar - Hopi Prophecy - Sacred Dream
New Millennium - - Planet Earth - Pleiades Cluster
Milky Way Galaxy - The Cosmos - Constellation Of Taurus